<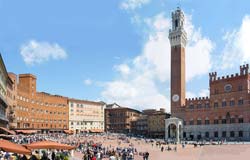 Language School Italy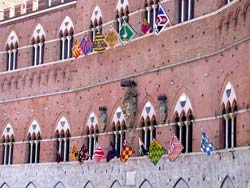 Language School Italy
Siena is a city in Tuscany, Italy. Looking towards the Duomo at Night.Siena was an Etruscan settlement and a small Roman town, the seat of a Christian bishop by the 5th century, but its importance began in the early 12th century, when a self-governing commune replaced the earlier aristocratic government. Its university, famed for its faculties of law and medicine, was founded in 1203. Siena's University is still among the most important Italian universities, and the picturesque city remains an
important cultural centre, specially for humanist disciplines.
Siena's cathedral, the Duomo, begun in the 12th century, is one of the great examples of Italian gothic architecture. Its main facade was completed in 1380. Its campanile and baptistry make a fine group. The Palio delle contrade is a horse race held twice each year, in which the horse and rider represent one of the seventeen contrade, city wards. See Palio di Siena for more information.