<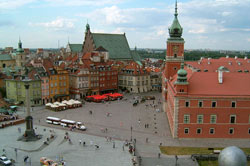 Learn Polish in Poland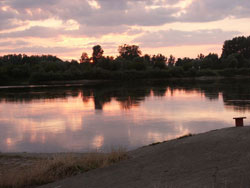 Poland was the first former Soviet bloc country to hold a free and democratic presidential election. The Polish landscape consists almost entirely of the lowlands of the North European Plain, at an average height of 173 metres, though the Sudetes (including the Karkonosze) and the Carpathian Mountains (including the Tatra mountains, where one also finds Poland's highest point, Rysy, at 2,499 m.) form the southern border.
Several large rivers cross the plains, for instance the Vistula (Wisla), Oder (Odra), Warta the (Western) Bug. Poland also contains over 9,300 lakes, predominantly in the north of the country. Masuria (Mazury) forms the largest and most-visited lake district in Poland. Remains of the ancient forests survive: see list of forests in Poland. Poland enjoys a temperate climate, with cold, cloudy, moderately severe winters with frequent precipitation and mild summers with frequent showers and thunder showers.
Tourism in Poland @includes visits to big and old cities like the capital of Warsaw with its castle and its old town, its parks and boulevards. Other famous and old cities are Kraków with its cathedral and its old town, the medieval Hanseatic city of Gdansk, the old city of Wroclaw with its famous cathedral, the harbour city of Szczecin or Lublin with its impressive Jewish history. The bigger Polish cities are especially interesting for bagpackers because of their young population, affordable cultural events and many pubs.
The Mazury lake district in northeastern Poland with its picturesque villages and Malbork castle is also worth a visit. South of Bialystok one can find the Bialowieza Forest, a UNESCO Heritage Site and nature preserve where European bison (wisent) may be found.